Light Tonin Casa Table suitable for lovers of minimalist perfection
valutazione media:
VAT included
| | |
| --- | --- |
| Times of Productions - Shipping | 30 days |
Free Shipping
Extensible Table of Tonin's House cm 180 extending to 270 cm
The color that never goes out of fashion, beige and white tones for a sophisticated style for yesterday and tomorrow, are the combinations of the Light table with lateral extensions which are placed in a special compartment under the floor and have the peculiarity to have a design that resembles the motif with beveled corners, the feature of the table. The structure is made of cast aluminum and available in different colors. The top in satin, polymer or laminated HPL. Light is technology and lightness for a decisive character, suitable for those who love minimal perfection.
It is available in three different sizes.
PRODUCER
This article is produced by a Venetian company that for thirty years has been producing furniture from refined and innovative Italian design exported all over the world. Particular care, attention to the latest trends and modern forms are the characteristics around which this company designs and creates its handicrafts. Each product is designed, designed and manufactured in Italy. Starting from the tradition of classic furniture, the tradition in which the company has taken the first steps in the furnishing world more than thirty years ago, furnishings have evolved into pieces from essential, volatile, almost evanescent design in shapes and designs. colors. Furnishings that are inspired by natural shapes, concretizing in fluid and original lines to furnish a young and contemporary home.
Dimensions:
cm: L.140 extensible to 185xP.90xH.75
cm: L.160 extensible to 205 to 250xP.90xH.75
cm: L.180 extensible to 225 to 270xP.90xH.75
Structure and plan finishes:
| | |
| --- | --- |
| STRUCTURE | PLAN |
| 01 Painted aluminum Matt white | V601 Clear White Acid Glass White |
| 36 Matt Painted Aluminum Matt | V636 Light Beige Acid Light Extra |
| 64 Painted Aluminum Matt Anthracite | V664 Lightly acidified Anthracite glass |
| 01 Painted aluminum Matt white | 01 White Laminate Wood |
| 01 Painted aluminum Matt white | 01 Polymer Laminate White Matte |
| 36 Matt Painted Aluminum Matt | 36 Polymer Laminate Beige Opaque |
| 64 Painted Aluminum Matt Anthracite | 64 Polymer Anthracite Matt Laminate |
| 01 Painted aluminum Matt white | White Ceramic V1C |
| 36 Matt Painted Aluminum Matt | V4C Gray Ceramic |
| 64 Painted Aluminum Matt Anthracite | V2C Ceramic Black |
STRUCTURE
PLAN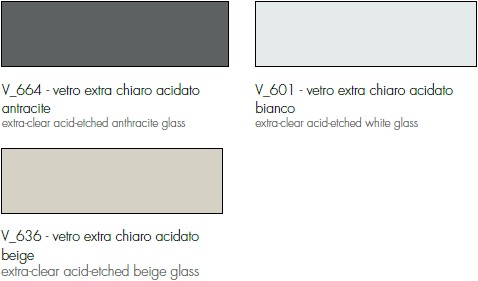 Recently viewed products