Modern stacking chair Liù Ingenia Bontempi
valutazione media:
€ 132,16
€ 194,35
Risparmi € 62,19
VAT included
| | |
| --- | --- |
| Times of Productions - Shipping | 30 days |
Liu 'chair by Ingenia Bontempi
The Liu 'chair by Ingenia by Bontempi is a stackable chair characterized by a lacquered steel tubular structure, available in different finishes and for the seat and backrest in ultrasound welded texplast mesh, also available in various colors. The color combinations between structure and seat give rise to many different combinations. Thanks to these characteristics, Liu 'by Ingenia by Bontempi is a breathable chair, light but at the same time robust, and resistant to bending. Liù's design and creativity also play a major role. The chair is available in two different heights and in the outdoor version.
Dimensions:
cm: L.46 x P.55 x H.81 / 46 (low back model)
cm: L.46 x P.55 x H.91 / 46 (high back model)
Structure finish:
M089 Aluminum lacquered steel
White M306 lacquered steel
Celeste M318 lacquered steel
M307 dark brown lacquered steel
Anthracite M310 lacquered steel
Matt black lacquered steel M055
White M306X lacquered steel (for exterior)
M312X Sand lacquered steel (for exterior)
Anthracite lacquered steel M310X (for external)
Seat and back finish:
Texplast White X039
Texplast Sand X040
Texplast Gray X036
Texplast Black X035
Soft Texplast White X111
Soft Texplast Moon Rock X112
Soft Texplast Ceruleo X113
Soft Texplast Anthracite X114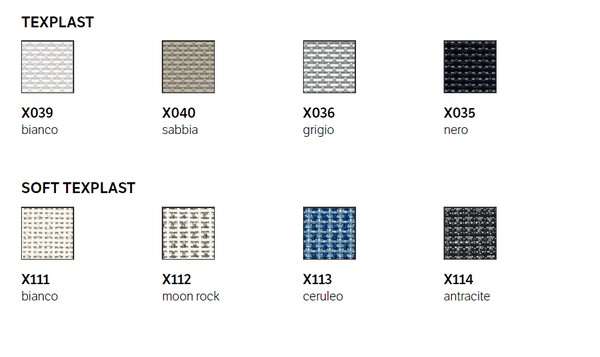 Recently viewed products