Totem freestanding washbasin
valutazione media:
€ 1.753,88
€ 2.377,48
Risparmi € 623,60
VAT included
accessory 1
accessory 2
accessory 3
Features
| | |
| --- | --- |
| Times of Productions - Shipping | 30 days |
Free Shipping
Totem freestanding washbasin
The Totem Freestanding washbasin is characterized by its slender shape and by the trapezoid style that can make it stand out in the center of the room. The porcelain stoneware with which the Totem washbasin is made gives it dynamism, capturing the attention and enhancing every single element of the room, breaking the monotony of the bathroom and making it an exclusive and modern environment. The Totem Freestanding washbasin stands out in elegance thanks to the purity of the ceramic (
from the manufacturers

LAMINAM

,

KERLITE

and

IRIS
) which enhances the quality of the washbasin. Porcelain stoneware makes Totem a sink that looks good in any bathroom style, catching attention on itself. The distinctive and optional elements of the Totem free standing washbasin are the two design elements in TEK wood in wing form that enhance the shape of the washbasin giving further dynamism. Not just style, because they are also useful storage compartments, providing additional space, essential in every bathroom. Totem is the sink for those looking for functionality without ever giving up style.
Dimensions: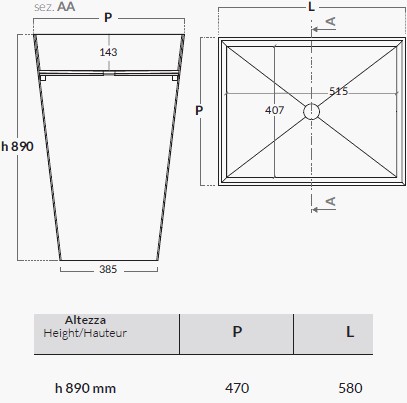 Optional:
PT Chrome-plated brass 1 "1/4" up & down "basin drain
TC Corrugated tube Ø 32 mm I. 800 mm
AT Alk in Tek
FOR WASHBASIN FINISHES SEE TECHNICAL SHEET
---
PRODUCER
Created in the Marche region in 2015 by a leading company in the production of kitchen countertops, this line of ceramic bathroom products offers a product characterized by a captivating design from a current and reliable material such as ultra-thin Gres, and from a customization that allows you to meet all customer needs. The great reliability and adaptability of Ultrathin Stoneware has allowed the offer to be of the highest quality, offering furnishings with a refined design such as freestanding or countertop basins, rectangular bathtubs, shower trays of different shapes and sizes that can be matched to floors and custom coverings, making the bathroom a unique and elegant environment.
SELECT THE COLOR FINISHING STRUCTURE (

A

,

B

,

C

)
AND INDICATE THE COLOR SELECTED IN THE APPROPRIATE HIGH BOX [INSERT COLOR CODE]

Washbasin finishes:
COLORS A









COLORS B









COLORS C




LIST OF BRAND FINISHES

PIETRA DI SAVOIA GRIGIA ( LAMINAM )
PIETRA DI SAVOIA ANTRACITE ( LAMINAM )
BROWN OXIDE ( LAMINAM )
BLACK OXIDE ( LAMINAM )
VIA TORNABUONI SILK ( KERLITE )
VIA MONTENAPOLEONE SILK ( KERLITE )
VIA FARINI SILK ( KERLITE )
VIA CONDOTTI SILK ( KERLITE )
ROAD ( KERLITE )
NOISETTE ( KERLITE )
ANTHRACITE LIME ( LAMINAM )
BLACK LIME ( LAMINAM )
GRAY LIME ( LAMINAM )
LIMESTONE OYSTER ( KERLITE )
LIMESTONE CLAY ( KERLITE )
LIMESTONE AMBER ( KERLITE )
LIMESTONE SLATE ( KERLITE )
CEMENT 10 ( KERLITE )
CEMENT 20 ( KERLITE )
CEMENT 30 ( KERLITE )
MATERICA TORTORA ( KERLITE )
WHITE MATERICA ( KERLITE )
PULPIS NAT SILK ( KERLITE )
AMADEUS NAT SILK ( KERLITE )
WHITE OXIDE ( LAMINAM )
FOKOS ROCK ( LAMINAM )
FOKOS LEAD ( LAMINAM )
FOKOS RENA ( LAMINAM )
FOKOS SALE ( LAMINAM )
FOKOS TERRA ( LAMINAM )
AVENUE AMBER ( IRIS )
AVENUE SILVER ( IRIS )
AVENUE IVORY ( IRIS )
CALACATTA ( LAMINAM )
RAIN GRAY SILK ( KERLITE )
ONIX SILK ( KERLITE )
WHITE LIME ( LAMINAM )
ESTREMOZ SILK ( KERLITE )
METAL CORTEN ( KERLITE )
NERO MARQUINIA NAT ( LAMINAM )
ABSOLUTE WHITE MATT ( LAMINAM )
CALACATTA LUC ( LAMINAM )
ARABESCATO LUC ( LAMINAM )
Recently viewed products