Extensible table Eos by Ingenia Bontempi with top in different finishes
€ 436,78
€ 642,33
Risparmi € 205,55
iva inclusa
| | |
| --- | --- |
| Times of Productions - Shipping | 30 days |
Free Shipping
valutazione media:
Extensible Eos table by Ingenia Bontempi
EOS is a modern and rectangular table that is characterized by its square and essential line. The structure of the Eos Table of Ingenia is made of steel and is available in finishes: lacquered aluminum, white, sand, mud, dark brown, anthracite, black or chrome plated.
The Eos table top is available in various finishes: melamine, melamine, mat, crystal, scratchproof unicolour, Fenix ​​laminate and SuperCeramica. Each finishing is available in different colors.
The extensible Eos table of Ingenia features an extension system that keeps your legs in perimeter position.
It is available in different sizes.
Dimensions:
cm: L. 90 extensible to cm 130 x P. 60 x H. 75
cm: L. 100 extendable to cm 140 x P. 70 x H.75
cm: L. 120 extensible to cm 180 x P. 80 x H.75
cm: L. 140 extendable to cm 200 x P. 80 x H.75
Frame Finish:
ALUMINUM lacquered steel
White lacquered steel
Lacquered steel SABBIA
Lacquered steel MORO'S HEAD
Lacquered steel ANTRACITE
GLASS OPACO lacquered steel
chrome
Planing and extrusion finishing:
Melaminic Alluminio (No.1 Melamine Aluminum Extension)
White Melaminic (No.1 Melminic White Extension)
Melaminic Sand (No.1 Melamine Sand Extension)
Melamine Anthracite (No.1 Anthracite Melamine Extender)
Melaminic Materico Sand Cement (No.1 Extruded Melamine Material Sand Sand)
Melamine Material Cement Talpa (No 1 Melamine Extrusion Material Talpa)
Melamine Oak Canyon Oak (No.1 Extender in Melamine Canyon Oak Canyon)
Melamine Materico Walnut (No.1 extender in melamine walnut nut)
Melamine Black Dark Olive (No.1 Extender Melamine Black Dark Olive)
Laminate Fenix ​​White Alaskan (No.1 Fenix ​​White Alasca laminate extension)
Fenix ​​Sand Ottawa (No.1 Fenix ​​Sandwich Ottawa Extension)
Laminate Fenix ​​Gray London (No.1 Laminated Fenix ​​Gray London Laminate)
Unicolor Scratch-Off White (No 1 White Melamine Extension)
Unicolor scratch-resistant Nanto stone (No.1 melamine white extension)
Uniccolor ntigraffio Porfido (n.1 sand melamine extension)
Unicolor scratch-resistant lava stone (n.1 melamine anthracite extension)
Unicolor Antique Brown Stone (No.1 Anthracite Melamine Extender)
Glossy extrawhite crystal (No.1 white melamine extender)
Glossy Torture Lacquered Crystal (No.1 Melamine Sand Extension)
Lacquered Crystal Shiny Black Head (No.1 Anthracite Melamine Extender)
Glossy Anthracite Lacquered Crystal (No.1 Antracite Melamine Extension)
Glossy Black Lacquered Crystal (No.1 Anthracite Melamine Extender)
Anti-scratch Velvet Crystal Matte White (No.1 White Melamine Extension)
Cristal Velvet Anti-Scratch Matte Tortora (No.1 Melamine Extension Sand)
Scratch-resistant Velvet Crystal Dark Matte Head (No.1 Anthracite Melamine Extension)
Anti-scratch Velvet Crystal Matt Anthracite (No.1 Anthracite Melamine Extender)
SuperCeramica Bianca (n.1 extension of opaque white lacquered wood)
SuperCeramica Sand (n.1 matte matt lacquered wood)
Anthracite SuperCeramic (No.1 Matte Anthracite lacquered wood extension)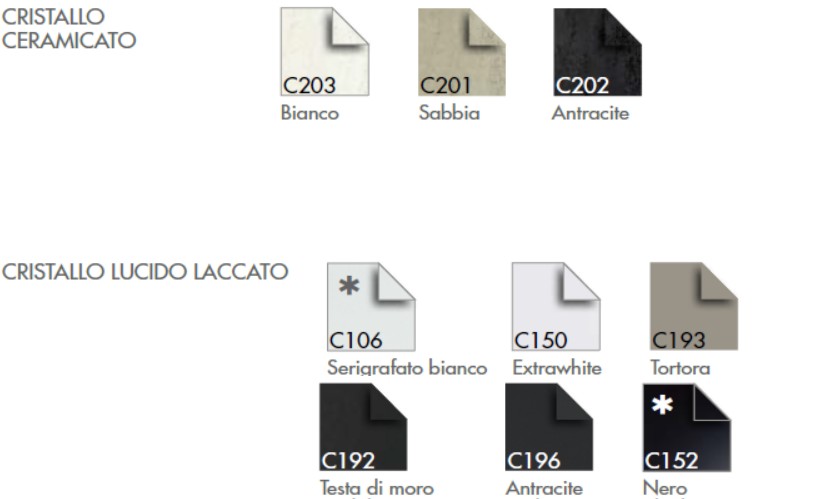 Recently viewed products