Eos extendable table by Ingenia Bontempi with top in different finishes
valutazione media:
€ 481,58
€ 708,21
Risparmi € 226,63
VAT included
| | |
| --- | --- |
| Times of Productions - Shipping | 30 days |
Free Shipping
Eos extendable table by Ingenia Bontempi
EOS is a modern and rectangular table that is characterized by the square and essential line. The structure of the Eos Table by Ingenia is made of steel and is available in the finishes. The Eos table top is available in different finishes: melamine, Materico melamine, crystal, scratch-resistant unicolor, Fenix laminate and SuperCeramic. Each of the finishes is available in different colors. The Eos extendable table by Ingenia is equipped with an extension system that allows you to keep your legs in perimeter position. It is available in different sizes.
Dimensions:
cm: L.90 extendable to 130xP.60xH.75
cm: L.100 extendable to 140xP.70xH.75
cm: L.120 extendable to 180xP.80xH.75
cm: L.140 extendable to 200xP.80xH.75
Structure finish:
M089 ALUMINUM lacquered steel
M306 WHITE lacquered steel
M097 LIGHT GRAY lacquered steel
M312 SABBIA lacquered steel
M028 DARK BROWN lacquered steel
M307 Lacquered steel TESTA DI MORO
M030 TITANIUM lacquered steel
M310 ANTHRACITE lacquered steel
M055 MATT BLACK lacquered steel
G093 Chrome
Top finish and extensions:
L054 Melaminic Materico Cemento Naturale (extension of Melaminico Materico Natural Cemento L054)
L058 Materic Melamine Sand Cement (Melaminico Materico Sand cement L058)
L059 Materic Melamine Cement Mole (extension Melamine Materico Cemento Mole L059)
L055 Canyon Oak Materic Melamine (Canyon Oak Laminating Melamine Materico L055)
L056 Walnut Melamine (Materico Walnut Melamine L056)
L057 Dark Elm Materic Melamine (extension of Melmico Materico Dark Elm L057)
L072 Aluminum Melamine (Aluminum Melamine Extension L072)
L043 White Melamine (Melminico White L043 extension)
L044 Sand Melamine (Sand Melamine extension L044)
L045 Anthracite Melamine (Anthracite Melamine extension L045)
F001 Alaskan White Fenix Laminate (Alaskan Fenix White Fenix laminate extension)
F002 Laminate Fenix Ottawa Sand (laminated extension Fenix Sabbia Ottawa F002)
F003 London Gray Fenix Laminate (London F003 Gray Fenix laminate extension)
D007 Unicolor scratch-resistant White (melamine extension White L043)
D004 Unicolor scratch-resistant Pietra di Nanto (melamine extension White L043)
D005 Uniccolor scratch-resistant Porphyry (Sand melamine extension L044)
D006 Unicolor scratch resistant Lava stone (melamine extension Anthracite L045)
D003 Unicolor anti-scratch Brown Stone (melamine extension Anthracite L045)
C150 Extrawhite polished crystal (Melamine extension L043)
C166 Glossy Light Gray lacquered crystal (Melamine Aluminum extension L072)
C193 Glossy Tortora lacquered crystal (Sand Melamine extension L044)
C192 Shiny Dark Brown lacquered crystal (Anthracite Melamine extension L045)
C196 Glossy anthracite lacquered crystal (Anthracite Melamine extension L045)
C152 Glossy black lacquered crystal (Anthracite Melamine extension L045)
C180S Matt white scratch-resistant Velvet crystal (White Melamine extension L043)
C186S Matt Light Gray Scratch-resistant Velvet Crystal (Aluminum Melamine Extension L072)
C181S Velvet scratch-resistant crystal Dove gray (extension Sand Melamine L044)
C182S Velvet scratch-resistant crystal Matt dark brown (Anthracite Melamine extension L045)
C183S Anti-scratch Velvet crystal Matt anthracite (Anthracite Melamine extension L045)
CR003 White SuperCeramic (White Melamine Extension L043)
CR001 SuperCeramica Sand (Sand Melamine Extension L044)
CR002 Anthracite SuperCeramic (Anthracite Melamine extension L045)
For Color Samples see TECHNICAL SHEET
FINISH STRUCTURE:
Lacquered steel
PLAN finish:
Melaminico Materico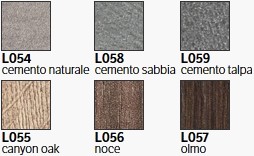 melamine



Fenix laminate



Scratch-resistant unicolor



Glossy lacquered crystal
Opaque scratch-resistant Velvet crystal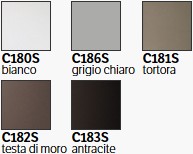 SuperCeramica
Products that might interest you
Recently viewed products