Fixed table Elisha of Tonin Casa
valutazione media:
VAT included
| | |
| --- | --- |
| Times of Productions - Shipping | 25 days |
Free Shipping
Elisha's Table of Tonin's House
Fixed table Elonie of Tonin Casa with three leg bases that cross between them in lacquered metal, the floor is glass, wood or gres available in several sizes. A wood floor in different essences, or tempered glass electrically-welded UV rays on a steel plate; all resting on a bent and painted metal base to achieve a great aesthetic appeal. With Eliseo, a sophisticated dining table is available, available in a tricolor and double base version, able to fit into rooms of different sizes.
PRODUCER
This article is produced by a Venetian company that for thirty years has been producing furniture from refined and innovative Italian design exported all over the world. Particular care, attention to the latest trends and modern forms are the characteristics around which this company designs and creates its handicrafts. Each product is designed, designed and manufactured in Italy. Starting from the tradition of classic furniture, the tradition in which the company has taken the first steps in the furnishing world more than thirty years ago, furnishings have evolved into pieces from essential, volatile, almost evanescent design in shapes and designs. colors. Furnishings that are inspired by natural shapes, concretizing in fluid and original lines to furnish a young and contemporary home.
Dimensions:
cm: Ø120xH.75 (round)
cm: Ø140xH.75 (round)
cm: Ø160xH.75 (round)
cm: 200x105xH.75 (elliptical)
cm: 220x120xH.75 (elliptical)
cm: L.240xP.120xH.75 (rectangular)
cm: L.300xP.120xH.75 (rectangular)
cm: L.250xP.106xH.77 (rectangular)
cm: L.300xP.120xH.77 (rectangular)
cm: L.260xP.120xH.75 (elliptical)
cm: L.300xP.120xH.75 (elliptical)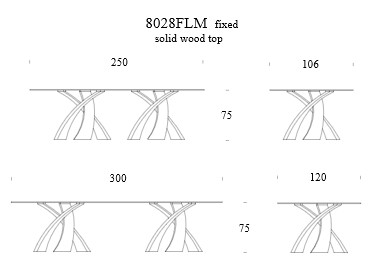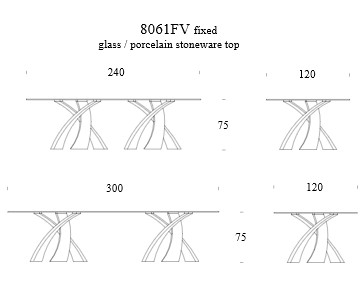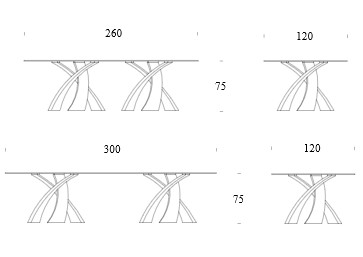 Base Finish:
01 White Matte
02 Black Opaque
51 Fango Opaco
83 Bronze Stone
31 Tricolore (white, beige and mud)
FOR FINISHES PLEASE SEE TECHNICAL DATA SHEET
Floor Finishes:
V81 Transparent
V100 Extra clear transparent
V85 Smooth transparent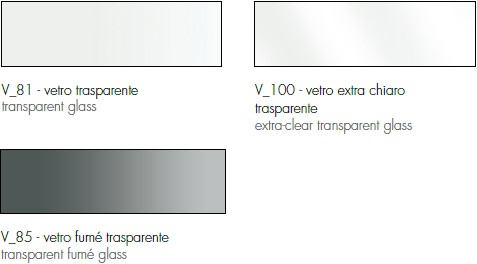 14 Walnut Canaletto
16 Thermotracted dark oak

V73P Gray onyx porcelain stoneware (glass-coupled)
V01P Porcelain stoneware high statuary (glass-coupled)
V85P Porcelain stoneware Portoro (glass-coupled)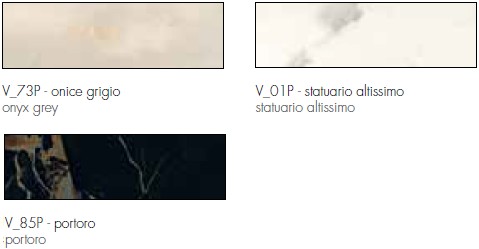 LM_17 Solid light oak
LM_16 Solid dark oak
LM_14 Solid walnut
Recently viewed products